Camellia for Foliage, Flowers, Fruit & Tea
White tea is mainly produced in China. It is neither fermented nor rolled. It is processed by drying only; plant varieties are numerous.
Chinese tea used to be sold by a single organisation: The National Native Produce and Animal By-Products Import and Export Corporation of the People's Republic of China. Their stranglehold on the market is now less rigid, but tea purchase in China is fraught with pitfalls and anecdotal reports continue to suggest pesticide residue.
The major tea producing provinces are detailed below: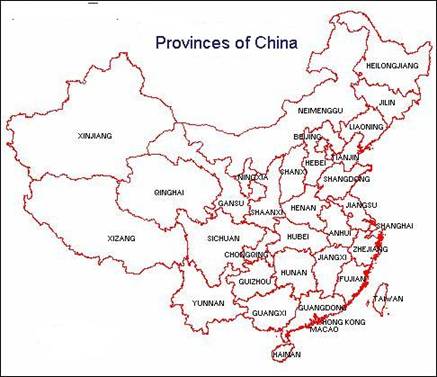 Tea producing provinces of China
a) Anhwei. It has been famous for its tea since the 7th century when teas were exported to the rest of China as well as abroad. Keemun, the "red tea of China" from Chi-men is especially famous.
b) Huang-shan is practically synonymous with tea, for here the leaves are processed from such well known nearby producing areas as Ch'i-men, Hsiu-ning, and She-hsien in Anhwei and Ching-te-chen and Wuyuan in neighbouring Kiangsi province. In this area some 60% of the population is engaged in tea production. Tea from Huang-shan is exported all over China, as well as abroad. Since 1949 an extensive tea-processing plant has been established there.
c) Yunnan. The tea bushes in Yunnan produce thick, broad and glossy leaves. Most of the teas are cultivated in altitudes between 3,000 and 7,000 ft.